Vinyl Flooring in Columbia, MO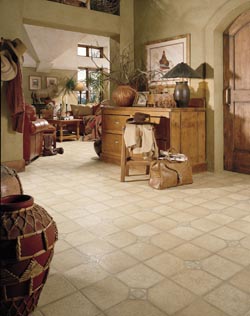 Update the look of your residence when you shop with us for new vinyl flooring in Columbia, MO. Dave Griggs' Flooring America features an endless selection of products for spaces of all sizes. When you are looking to transform your bedroom, kitchen, or another room, you are sure to find the perfect option when you browse our stock. Visit us today to learn more about our vinyl tile flooring for your location.
Stunning Vinyl Flooring for Your Home
Are you tired of the same old appearance in your residence? When it has been several years since the last time you remolded your home, you may be ready for a new look. A new set of flooring can give you the bold style you want.
Our local flooring store features endless options in vinyl flooring. From classic to modern, you are sure to find a style that fits your preferences and current room setups. We are proud to feature styles that create a luxury look in every space. Whether you are dreaming of the regal look of hardwood or the standout appearance of granite, we have the perfect product in stock for you. We invite you to shop with us to discover how our vinyl floors can transform your home.
Vinyl Flooring: The Strong Option
Do you live in a busy household? If your home has children, pets, or another source of heavy foot traffic, it is vital that you select a strong flooring material to hold up to use. Vinyl flooring is a strong and durable option that is built to last without developing cracks, dents, or other damage. By selecting this flooring material for your home, you will avoid the need for repairs in the future.
Request a New Vinyl Flooring Installation
Once you choose the right new material for your home, turn to our professionals to perform your installation project for you. For your convenience, we are proud to offer vinyl flooring installation services for jobs of all sizes and complexities. From bedrooms to bathrooms, we are here to complete your service in every part of the home.
Work with a team you can trust for your installation. Our experienced contractors have the skills and expertise to deliver a flawless result to any type of project. We focus on the details to ensure that all planks and tiles are placed properly. With us on your side, you can count on us to finish your vinyl flooring installation the right way.

Contact us to browse our stock of vinyl flooring. Our products are available for purchase throughout Ashland, Hallsville, Fulton, Centralia, Boonville, Harrisburg, Sturgeon, Hartsburg, Rocheport, Mexico, Moberly, Jefferson City, Pilot Grove, Fayette, and Columbia, Missouri.