Tile Flooring in Columbia, MO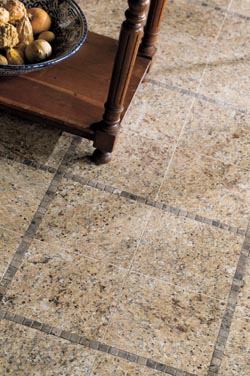 Dave Griggs' Flooring America carries a complete selection of tile flooring options to suit virtually any room of your house. A favorite for centuries due to its appearance and durability, floor tiles provide a beautiful flooring option for any room in your home.


Tile Flooring Benefits
Tile floors have been a popular choice for many years. It provides low-maintenance upkeep that can be used in virtually any room. With many options to fit your style preferences, flooring tile is a cost-effective, adaptable choice.
Flooring tiles can provide the following benefits:
Tile provides maximum durability. Tile flooring is water resistant. In a spill-prone setting, such as a bathroom or kitchen, a tile floor won't accumulate moisture due to the density of the material. Tile flooring is more scratch resistant than other types of flooring, which makes it a great alternative for high-traffic areas.

Tile is easy to repair. As tile is a natural material, there is still the potential for breakage. If this does occur, a single tile can be easily and quickly replaced. Talk to your Dave Griggs' Flooring America tile floor installation expert about putting aside several pieces of tile after your installation to ensure that you have some available should an accident happen.

Tile offers ease of maintenance. Tile flooring requires only a damp mop and common household cleaning agents. Short of the application of an occasional sealant, you can relax and enjoy your tile flooring without worrying about complicated maintenance.

Tile is available in many patterns, colors, and textures. Tile flooring allows you to bring the looks you love into parts of your home that you never thought possible. Bring an elegant look into your kitchen with marble floor tile. Turn your bathroom into a nature-inspired retreat with the look of slate floor tiles. Make the most of your space with the addition of garage floor tiles, designed to keep your garage floor clean while looking great. Whatever your vision, our discount floor tile can help turn your high traffic areas into the spaces you've always dreamed of. For more on tile selections visit Flooring America's catalog.

We proudly serve the communities of Columbia, Ashland, Hallsville, Fulton, Centralia, Boonville, Harrisburg, Sturgeon, Hartsburg, Rocheport, Mexico, Moberly, Jefferson City, Pilot Grove, and Fayette, MO.