Tile Flooring in Columbia, MO
Are the walls and floors of your kitchen or bathroom peeling, faded, or just downright outdated? Have you been waiting to find the perfect product to complete an outdoor patio for outdoor hosting? Look no further as Dave Grigg's Flooring America has the perfect tile solutions to revitalize any property. Our local Columbia flooring store has a wide variety of stone, ceramic, porcelain, and wood-look tiles for flooring and backsplash creations.
We offer a broad spectrum of services ranging from product selection and custom measurements to final installation. Chat with our design experts regarding any questions you may have to perfectly align your tile's pattern, colors, and material to existing décor. Visit our showroom in Columbia, MO, today to start your tile flooring renovation!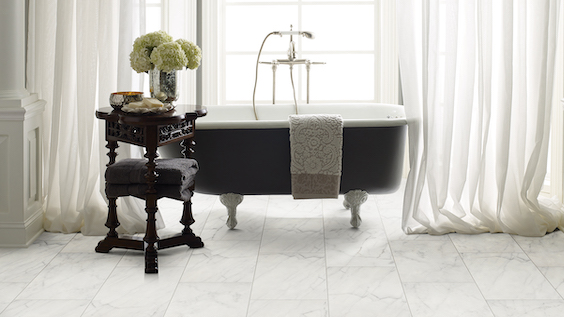 Types of Tile Flooring Available
Thanks to our partnership with Flooring America, our shop has access to nationwide 500-store buying power. This means we're capable of offering the Columbia area's largest selection of tile flooring solutions, all of which are produced for top-quality manufacturers at an affordable cost. With tile flooring brands including Daltile, Mohawk, Shaw, Floorcraft, Emser Tile, and Spotlight Values, you have plenty of styles and features to choose from.
Customers who value sustainability will adore the natural materials that are gathered from the earth to produce tile flooring, backsplashes, and more. We offer some of the following tile types, each with its own unique properties:
Ceramic Tile
Ceramic tile can add a touch of elegance to any space. This low-cost flooring option is heat and water-resistant and is often texturized to avoid slipping. Created from kiln-fired clay, ceramic can be purchased with a glaze coating or left untouched. As one of the softest tiles, ceramic is simple to cut and install. Ceramic is a popular choice for those looking to install a tile backsplash.
Porcelain Tile
This tile option is made with the same process as ceramic, though the kiln-fired clay has a longer heating time. This results in a denser finish with the same vibrancy as its ceramic counterpart. Enjoy porcelains elegant look and waterproof performance in any room of your home, including the kitchen and bathroom.
Stone & Slate Tile
A perfect choice for indoor and outdoor use, stone and slate tile offers an earthy and rustic look to your home or landscaping. Enjoy the warm and welcoming tones of blue, gray, orange, gold, and green. Stone and slate are unique types of tile, as they are not man-made but are quarried directly from the earth.
Wood-Look Tile
Many customers find themselves weighing the merits of different types of flooring for their homes. Some love the character of wood but are drawn to the benefits of tile. At Dave Grigg's Flooring America, you can have both with our wood-look tile. We offer both porcelain and ceramic tile that has the realistic appeal of hardwood plank. Our bountiful selection includes tile with different wood looks ranging from lighter shades of oak to rich hues of mahogany.
Our sales and design professionals can show you a multitude of samples with varying wood grain and patterns, as well as the look of different botanical species. We're confident you'll discover the perfect wood-look tile flooring for your home remodel.
Versatile Tile Products for All Your Home Remodeling Needs
Dave Grigg's Flooring America offers full-service home remodeling solutions, with tile selections for much more than your floors. With our beautiful colors, patterns, shapes, and sizes, you can create a simple design or intricate mosaics. We offer tiles for a variety of applications, including:
Outdoor Tile
Custom Backsplash Tile
Shower Tile
Wall Tile
Fireplaces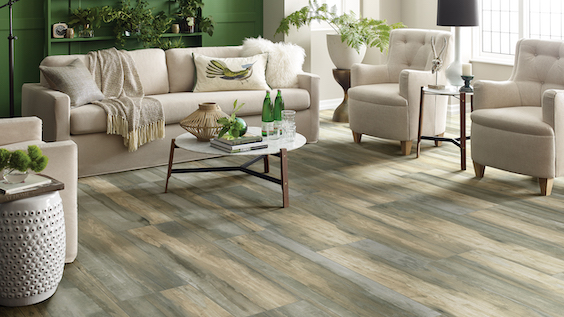 Enjoy Radiant Heated Tile Flooring
Our Missouri customers love the feeling of heated tile floors in the cooler months. Imagine stepping out of the shower onto warm floors as you get ready for your day. Tile is the perfect flooring solution if you desire to install radiant heated floors. We carry reliable tile brands like Dall Tile and Marazi, crafted to withstand heat for a pleasant, warm feeling underfoot. Ask our flooring experts about tile flooring that's compatible with radiant-heated floors!
Benefits of Tile Flooring From Our Local Flooring Store
Tile has been a popular choice for home flooring and construction for many years, dating back to ancient civilizations. The contemporary tile products found at Flooring America are a cost-effective and versatile solution that comes in a variety of styles to suit your preferences. Learn more about the advantages of choosing tile for your Columbia, MO, property:
Maximum Durability
Tile flooring is water-resistant. In spill-prone areas, such as bathrooms or kitchens, a tile floor won't accumulate mold or seep water through the subfloor due to the density of the material. Tile flooring is more scratch-resistant than other types, which makes it a great alternative for high-traffic areas.
Ease of Maintenance
Tile flooring requires only a damp mop and common household cleaning agents. Short of the application of an occasional sealant, you can relax and enjoy your tile flooring without worrying about complicated maintenance. Scouring powder, water, and paste can be used on unglazed tiles.
Versatility in Design
Tile is available in many patterns, colors, and textures, allowing you to bring the looks you love into parts of your home that you never thought possible. Bring an elegant look into your kitchen with marble floor tile. Turn your bathroom into a nature-inspired retreat with the ambiance of slate floor tiles. Whatever your vision, our floor tiles can help turn your high-traffic areas into the spaces you've always dreamed of.
Professional Tile Flooring Installation Services
The installation of tile flooring can be a delicate process. It's critical to ensure that your investment is installed correctly and with the proper attention to detail. Our expert team of technicians is available to perform an installation around your schedule. With upgraded tools and equipment, we can accurately lay your new tile floor or backsplash to ensure it looks great and performs well for many years.
With our many years of experience, you'll enjoy the artful craftsmanship in installing custom tile floors. At Dave Grigg's Flooring America, your success is our mission. That's why each tile flooring installation service is backed by our Adore Your Floor Guarantee. Should you experience any issues, contact us within 30 days and we will fix or replace your floors at no extra cost. Ready to learn more about our tile flooring?

Contact us today and get started with the flooring upgrade of your dreams! We proudly work with customers in Columbia, Ashland, and Jefferson City, MO.