Upgrade Your Floors with Luxury Vinyl Planks in Columbia, MO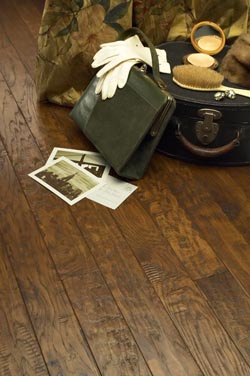 Give your home a great new look with luxury vinyl planks in Columbia, MO. Designed to mimic the look and feel of real hardwood, LVP is a cost-effective way to add the timeless aesthetic of wood to any room in your home. Visit Dave Griggs' Flooring America to learn more about the wondrous benefits that vinyl planks provide and to explore all the flooring solutions we have available for your home.
Why choose LVP?
Now you may be wondering why you would choose vinyl planks over real hardwood. The answer to this question is quite simple; LVP provides superior moisture resistance. This lets you use a luxury vinyl plank floor in areas where a real hardwood surface is not recommended, such as in bathrooms or kitchens. No matter how much water comes in contact with LVP you never have to worry about it warping or shifting.
Additionally, LVP is very comfortable to walk on due to it being softer than other materials. Vinyl also adds an extra layer of insulation and provides excellent sound dampening. This makes LVP the ideal solution for living areas and bedrooms.
Furthermore, an LVP floor is easy to maintain. Most messes wipe away with a simple cloth or mop, and the resilience of vinyl helps to keep it from staining. Additionally, you will be able to keep the beautiful look of your LVP surface without the need for special waxes or finishes.
A Large Selection of Styles
Whether you are looking for the majestic aesthetic of oak or the soft, inviting appearance of maple, our luxury vinyl has you covered. We offer a near limitless number of luxury vinyl planks in a plethora of colors and patterns to quickly find the right solutions for your home.
If you are unsure of what styles would work best in your rooms, then our team is here to help. We offer complete design advice to help you determine the styles that will fit into your homes current décor or be the start of a whole new look.
Properly Installing Your New Floors
At Dave Griggs' Flooring America, we offer complete services to take care of your new luxury vinyl plank floor installation. Our team of flooring experts has the skills and equipment required to properly layout and install your new surface. In most cases, we can perform the installation directly over your old flooring without needing to tear it up. This way you will be able to enjoy your new floors even sooner and have peace of mind that they will last for many years.

Contact us when you are looking for luxury vinyl plank flooring for your next home remodeling project. We proudly serve Columbia, Ashland, Hallsville, Fulton, Centralia, Boonville, Harrisburg, Sturgeon, Hartsburg, Rocheport, Mexico, Moberly, Jefferson City, Pilot Grove, and Fayette, MO, as well as the surrounding areas.