Hardwood Flooring in Columbia, MO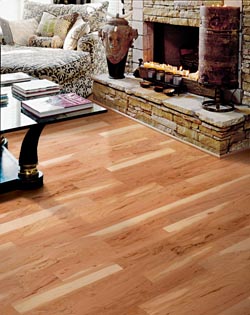 Our flooring store carries a complete selection of hardwood flooring options that are well within your budget. Whether you are looking for the traditional look of oak hardwood flooring or for the elegant appeal of maple, unique hardwood floors can only be found from our showroom. We carry the finest name brands, such as Bruce, and our showroom features a variety of wood flooring styles, finishes, and gloss levels. At our shop, we provide the best in discount hardwood flooring to enhance the beauty of your home.
Complete your purchase by scheduling wood floor installation with our skilled installation team. Protect your investment and ensure the safety of your home's subfloor for many years to come. By trusting our skilled installers with your new purchase, you're able to kick back and relax while we handle the complex installation work. Our team handles every step of the installation process including measurement, removal of the old flooring, preparation of the subfloor, and proper application of your brand-new flooring.

Benefits of Hardwood Floor Installation
A hardwood floor instantly adds style, function, and charm to any room. Providing long-lasting appeal and a solid foundation to complement your existing décor, this flooring will complement any style effortlessly. Our flooring experts can help you find the best product with amazing possibilities. Some of the species of solid hardwoods that we carry for your home include:
Cherry
Birch
Pecan
Ash
Hickory
Oak
Maple
Walnut
Pecan
In addition, each species is available in a variety of finishes, widths, gloss levels, and grain and texture patterns. This means that no matter what species or brand of wood flooring you choose, you're able to get something that suits your tastes and interior style perfectly. Our friendly flooring experts are always happy to answer any of your questions or help you choose something that complements your home.
Our quality wood floor products are crafted using the finest materials available, ensuring a look that only improves with age. At our flooring store, we have a hardwood to help create the look you've always wanted for your home. Whether you're creating a refined and professional home office or a warm and welcoming family room, we're able to help you find the perfect type of hardwood flooring. Once you select the perfect look for your new floor, our experienced hardwood flooring installation team makes sure your flooring exceeds your expectations.
Schedule Wood Floor Installation
Having your new floors installed by a professional is a vital part of protecting your investment and maximizing the value of your house. Wood floor installation is notoriously complex and difficult to handle, so it's best to leave the job to our expert installers rather than an amateur or hobbyist. Best of all, with our Lifetime Installation Guarantee, you know our work will stand up to the test of time. If it doesn't, we'll happily solve your problem and pay for the materials and labor involved.
In addition to our Installation Guarantee, we offer a Confidence Plus Warranty on any of our 4 or 5-Star hardwood floors. If you're not as pleased as you thought you would be after 30 days, we'll be glad to replace it for you and pay for the labor ourselves. Should you find the same brand and style of floor at a different flooring store at a lower price within 30 days, we'll refund you the difference. With all our guarantees, warranties, and top-quality service and installation, there's no reason not to choose our local flooring store for your next home improvement project.


Why Choose Hardwood Floors?
With easy maintenance, your prefinished hardwood floors will maintain their value for many years. In addition to their aesthetic appeal, solid hardwood floors offer many other benefits ranging from allergy and asthma alleviation to incredibly easy maintenance routines. With a full range of tones, grain patterns, textures, and species to choose from, we're sure to have the perfect floors that suit your needs for every room in your house.
Hardwood floors are easy to clean and can add to a healthier home environment by reducing the effects of allergens. For moisture resistance and top-notch efficiency, engineered hardwood flooring is our suggested alternative for maximum performance and function. Engineered hardwood floors also work well in dining areas, family rooms, and entryways. Ask our flooring specialists to show you some flooring options that fit your needs and will make the most of your space.
By adding hardwood floors to one or more rooms in your house, you're permanently increasing the real estate value of your property. Hardwood flooring is one of the most highly sought-after features people search for when they're purchasing a new home. Even if you're not selling your house any time soon, hardwood floors only get better with age, so they'll be even more beautiful once they've had several years to age.

We proudly serve the communities of Columbia, Ashland, Hallsville, Fulton, Centralia, Boonville, Harrisburg, Sturgeon, Hartsburg, Rocheport, Mexico, Moberly, Jefferson City, Pilot Grove, and Fayette, MO.