Elegant Hardwood Flooring in Columbia, MO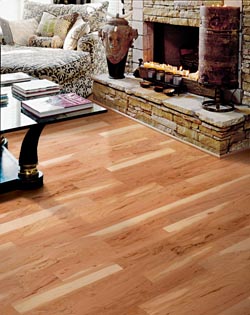 Update your home with a beautiful new look by choosing our hardwood flooring in Columbia, MO. At Dave Griggs' Flooring America, we offer several excellent wood surface options. These surfaces let you add a timeless aesthetic to your home and are ideal for living rooms and hallways.
When choosing hardwood floors, there are two primary options for you to select from -- engineered and solid. While both styles provide the same look and feel for your floors, engineered hardwood works best in moisture-rich environments, while solid offers longevity and robustness that is unmatched. If you need help deciding which flooring style to choose for your rooms, trust our flooring specialists to give you the advice you require.
Why Choose Hardwood?
With all the flooring styles available, a hardwood surface is still one of the most popular options amongst homeowners. This is thanks to the beautiful look a hardwood floor brings to any room. Additionally, by adding hardwood to your home, you will significantly increase the value of your property. Most prospective homebuyers seek out hardwood floors, and even if you are not selling your home right now, the value added by your new will only grow over time.
Furthermore, wood floor installation helps to create a healthier home environment. Dust and allergens are easily wiped away from your wooden surfaces with a simple cloth or mop.
Limitless Design Potential
When choosing hardwood for your home, there are many styles and options to select from. You need to determine which species you want to use, the shape and size of your planks and the color of the finish you want to add. When selecting the species of wood, there are many options for you to choose from, such as:
Cherry
Birch
Pecan
Ash
Hickory
Oak
Maple
Walnut
Pecan
Each of these species is available in a variety of shapes and finishes allowing you to easily match to the décor of your home. Additionally, if you are unsure of which hardwood flooring options would work best with your current interior style, then our team is here to help. Our expert designers can help you explore our vast collection of styles while working with you to determine the interior décor you are trying to achieve in your home. We can also help you decide on whether you should choose solid or engineered hardwood flooring for your property.
Contact us when you are looking for hardwood flooring to update your home. We proudly serve Columbia, MO, and the surrounding areas.